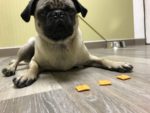 Over the years I've trained many assistance dogs in public places like malls and stores and been asked by folks if I could do it with their dog… it only took 15 years to dawn on me what a great idea that was. The idea is pretty simple… you drop your dog off in the morning and pick up in the evening just like you would for daycare, only your dog gets obedience training and learns good manners, in addition to daycare.
Details:
Dogs receive an hour of individual training lessons plus simultaneous training alongside other classmates when they are capable.

Dogs may spend some valuable time in crate (this is a necessary component to any serious training plan) in the company of the other dogs.

Dogs get playtime (daycare) with other dogs (recess!)

On Leash Basic Obedience training plan consists of:

Heel

Loose Leash Walking

Sit

Sit Stay

Down

Down Stay

Stand

Come

Wait

Leave it

Off Leash Obedience is available once your dog has mastered On Leash Basic Obedience.

Basic Training tools we may use: Long, short and retractable leashes, flat collars, prong collars, gentle leaders, toys and food. This is not a food based program, though it has its place at times. We will tell you exactly what we are doing with your dog, and we will show you how to maintain it.

Basic Obedience proficiency takes 8 weeks if training daily, and that also means that you have also learned about your own role in maintaining the training and are doing so. We require dogs to attend a minimum of 2 days a week in order to be able to make progress, but this does however lengthen the amount of time it takes to train your dog. We understand cost is a factor and our goal is to provide a great service at a reasonable fee. There is no set exact amount of time it will take, because of the number of factors (your dog's history, temperament, attendance, etc), but presuming your dog attended 5 days a week, we would estimate 8 weeks, etc. Here is a rough guideline to give you a ballpark idea:

5 days/week: 8 weeks to finish basic obedience training

4 days/week: 10 weeks to finish basic obedience

3 days/week: 14 weeks to finish basic obedience

2 days/week: 20 weeks to finish basic obedience

Despite the above guidelines, maintenance of good obedience requires practicing obedience on a regular basis. Many of our currently enrolled dogs like to continue in the program for maintenance purposes. This is optional. (Historically I would say to look at this as a 6 month program- 2 days/week- with the option to maintain afterwards).

Handouts are given out explaining how we trained your dog so you can reinforce training.

Dogs with "issues" ("aggression" issues or other established problematic behavior patterns) may be admitted on a case by case basis. Progress estimates do not necessarily apply (Fear, aggression and other will impede progress—not that progress can't be made, just not the same as a "blanker" slate).

Obedience School rate is $50/day.

Obedience training is about practicing obedience. Learning discipline. This unfortunately takes many hours of repetitions, there is just no getting around that. And it is further complicated by your dog's breed instincts and existing behavior patterns. Our training is based on 15+ years of experience training assistance dogs for a nationally recognized leader in the industry and 19 years of experience.