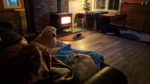 We understand how hard it can be to leave your dog in the care of someone else. No one likes the thought of his or her dog feeling sad and left behind, and even worse, lying in a kennel run in a commercial building. But it's not always practical to leave your dog with family.
At The Rustic Dog, your dog is with family. Your dog stays in our home. With us, with our dogs, with our family. They spend most of the day playing outside in our yard, enjoying the fresh country air… in the evening, they hang out in our downstairs living room, watching tv, chewing on a toy, cuddling up with one of us, or laying in front of the wood stove.
We don't charge extra to give your dog whatever meds he or she might be taking, and we don't charge extra to take him or her out (they're out most of the day!). We charge a flat rate of $40 per day/night. The last day is treated like daycare:
​Mon-Fri
Pick up 8-9am: no charge
Pick up 4-6pm: $25
​Sat:
Pick up 8-9am: no charge
Pick up 3-4pm: $25
​Sun:
Pick up 1-2pm only: $15
We can send you pictures of your dog while they are with us, update you on how they are doing, and we are always available to answer you when you want to check in on your dog.
We monitor behavior and interactions, and will manage when necessary, but our goal is to have all of the dogs together. Having said that, we will not allow any behavior that we feel is detrimental to any of the dogs in our care. We also gently require that stays of 4 nights or more get an exit bath (modest rate)… The dogs play hard and we want to send you home with a clean dog!
WE ONLY BOARD OUR WEEKLY DAYCARE OR TRAINING DOGS AT THIS TIME.  And we apologize up front if we don't get back to everyone who calls looking for boarding, we do our best to.