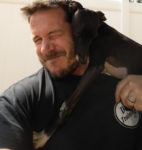 The Rustic Dog is a family owned and run dog care center, operated within our farmhouse on 11 acres in the beautiful countryside of Westminster MA. We are just minutes from Main St. in Westminster.
We offer professional Overnight Care, Daycare and Training.
Dave has been a professional dog trainer for over 20 years… (ok I'm not writing in the 3rd person so the rest of this is going to say "I" hahaha) I worked for NEADS (Dog for Deaf and Disabled Americans) from 1999-2015; I was a trainer there from March of 1999-2007 and the Manager of Puppy Programs from 2007-2015. In addition to training assistance dogs and their partners, I was responsible for training and overseeing volunteer weekend puppy raisers who socialized service puppies in training in roughly 13 prison programs throughout New England. I taught basic obedience and puppy kindergarten for the general public at NEADS from 2001-2007, and I have operated a private dog training business since 2006 (Dave's Dog Training Co.). The Rustic Dog is a progression of that business. Our training is based on proven methods used by one of the most respected leaders in the Assistance Dog industry.
I've always wanted to do more with the training we offered, and honestly it was obvious how great the need was for "boarding" (though I hesitate to use that word, since dogs staying with us are like family, we prefer to call it "overnight care"), so we began plans roughly around 2010 to find a property better suited for such a purpose. I wanted to give my clients (and now everybody!) a family style option for when they needed care for their dog. I also wanted to be able to help, really help, with training…..
Sarah ran her own Nail Salon for 15 years and it was time for a change- and good timing it was, because she got a quick indoctrination into the dog world and hasn't looked back since! And it just so happened that Sarah's cousin, Dawn Montgomery, is a phenomenal, experienced and caring groomer… so we were fortunate to be able to include her services from 2014-2017…. Unfortunately (for us!), Dawn retired in Summer 2017, so grooming services other than baths and nails are temporarily suspended….
What we offer you is a home away from home for your dog. All of our services are directly in our home. Our entire first floor is dedicated to the dogs. We have a professional grooming center (we will revisit resuming full grooming service in the future), living room, indoor play area, and huge out door fenced in area for the dogs to play in. Our entire family is involved and spends time with the dogs, so your dogs feel like they are home. We look forward to meeting you and your dog!
​
Sincerely,
Dave & Sarah